Read a catching article by Jan Šimánek - the author of Back to the Real Thing movie, where he describes his experience of making the movie. How does it feel to stay behind the camera with all those climbing legends in front of you?
The Real Thing is the first boulder movie ever made and it definitely makes sense to revisit it. The legendary opening techno track (Schöneberg / Marmion) kicks off the hard tempo, and Jerry Moffatt and Ben Moon are starting engines of their muscle cars: a Lancia Delta Integrale and a BMW E30 M3. Just Google them! That era is gone, but the energy, joy, and style is still revving on; here they are training on campus for the first time, climbing an overhanging artificial wall, sliding down the rocks of Fontainebleau, and the half-model, half-vagus guys are just getting on an amazingly insane wave.
This was my starting point. I had met Jerry once before, at a film festival in Krakow, Poland. I was there with Špek (Petr Slanina, Czech sandstone climbing legend) to introduce the film "Od palice k vrtu" (From Cudgel to Drill) and in the morning at the hotel breakfast, Špek was said, with his eyes still half-closed: "Please, call that waiter over there, I'll have coffee. Wait, this guy seems familiar...". Then they fell into each other's arms and they were recalling, using their arms and legs, their climbing together. That "waiter" still rings in my ears. :)))
I met Ben Moon personally for the first time under a rock, specifically under a really wet, slippery, and overhanging route The Hubble, which is why we came to England - Adam, me, and Petr Chodura, a photographer and a great guy. Adam wanted to finally tick off this classic route as one of the last on his list of unfinished homework from climbing history. He had tried it in the past, but he was either tired or the conditions were bad. The past means exactly nine years ago, and since then he still remembers all the moves. "It's an intrinsic part of education!". I'm joking around at the airport, encouraging him to try to climb it from memory and Adam does so without hesitation right in the lobby of Václav Havel Airport in Prague, Czechia. A lady standing just next to us doesn't understand who this strange, modern Don Quixote is and what air mills he's fighting.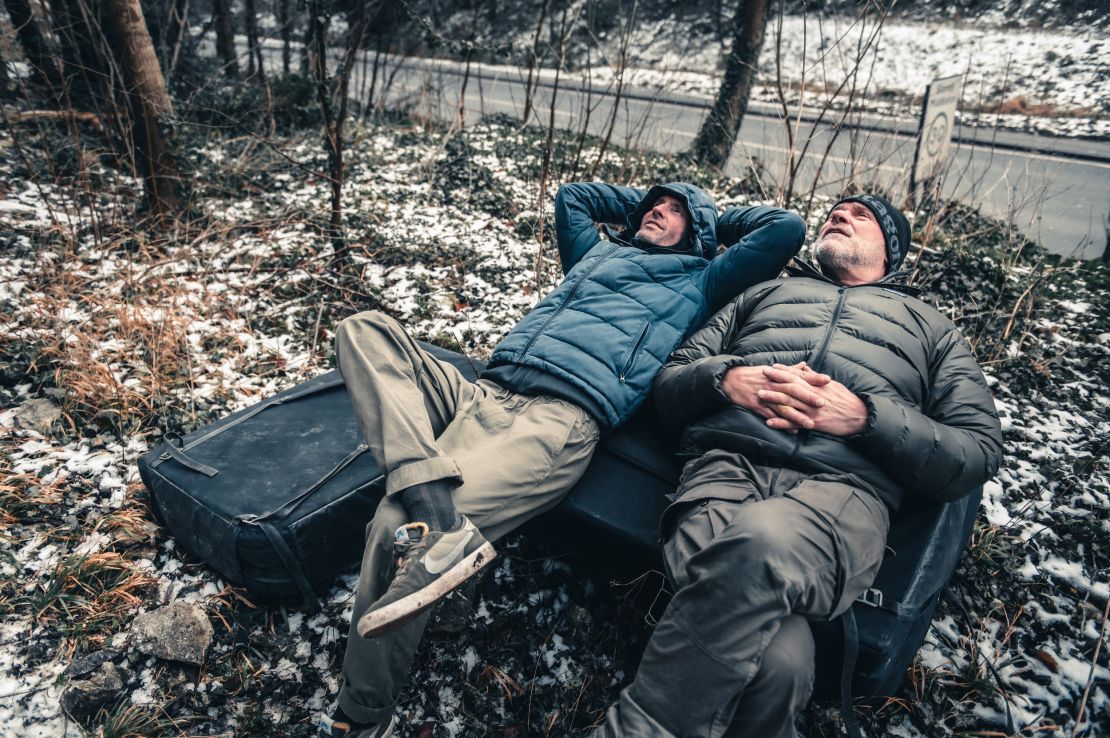 Photo by Petr Chodura
However, the route is wet, so Adam at least tops out an 8B boulder; Will Bossi acts like a rock mechanic and dries slippery jugs for him. It's around zero, the icicles are melting. Ben says we should go to his house for a chat, but I've never seen such a climbing den... It's like a modern art gallery. Everything has a harmonious composition and an uncompromising aesthetic quality. Every lamp is a piece of beautiful modern design, there's an iconic chair standing in the corner, there's an Andy Warhol-like painting on the wall. Wow. The painting is actually made by Ben's dad, an accomplished artist who, unfortunately, died tragically in a motorcycle accident when Ben was a child. I asked Ben to sit in that nice chair and flip through his dad's monograph. I can't help it: Jeremy's abstract paintings are actually studies for future Moonboards. The monograph is aptly titled "Starlight Hour", symbolic of what we came here to film: starlight. Ben is warming up and a flock of waxed surfboards are resting on the balcony. He looks nothing like someone who climbed a 9a a few years ago and who can still rock out damn hard. We go to take some shots in his BMW and film the sunset run under the rocks. Some young dudes with bouldering mats on their backs are walking towards us, Ben Moon, the inventor of half of everything around, nods a greeting. Amazing!
Later, at Jerry's, everything is the opposite... There's still a cheeky sparkle in his eyes, something contagious in his smile. Although his hair has definitely thinned and turned gray, he's a first-class charmer, a sweetheart with a sense of politically incorrect English humor. He takes us to Stoney Middleton, a historic area just outside Sheffield. He used to push the limits of the climbing grades to the new heights here, for example with his Little Plum route (it was the hardest route in Europe in 1981 and one of the hardest in the world). Stoney resembles a hardcore area in the Moravian Karst (Adam's homecrag) - by its slippery rocks, its size, and by the landscape itself. A common climber wouldn't go there nowadays. Jerry's stories of his beginnings are all the more interesting, I wish you could sit there on the ledge in the morning sun with him. He used to live like a rock rat right there under the wall, with a really cheap sleeping bag and less than a pound a day. That bought him rice and curry powder; it was his meal of champions. Anyone who has ever been to England can imagine how extremely unpleasant it must have been to be focused on training while the proverbial cats and dogs of all forms of water, wind and other English specialties were falling everywhere around. Jerry stops by a ridiculous-looking little rock and enthusiastically recalls how he used holds elimination to build training boulders for what were then the hardest routes in the USA. And how he manages to climb them shortly after. There's still one sentence glowing red among the other ones: I wanted to be the best climber in the world...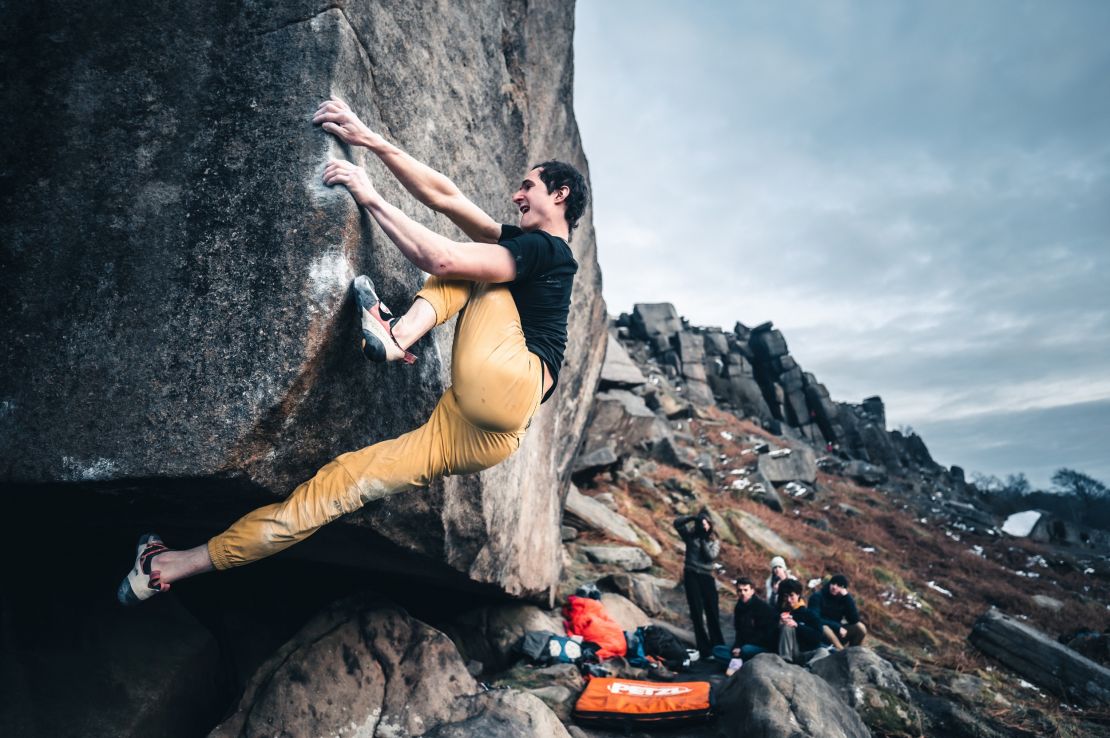 Photo by Petr Chodura
Finally, we go to see one of Jerry's last and hardest problems, The Ace 8B (from 2001). Adam would like to try to flash it. I set up the cameras and watch the scene. In front of me, the trajectories of two universes, two spacetimes, meet live. A materialized, personified history, in the form of Jerry Moffatt, stares in amazement at an oracle in the form of Adam Ondra; perception slows down and a retinal image is forever burned into Jerry's consciousness. One level further on, the same process is happening, only this time the event is caught on camera, so that in the future it can become one of those strange, dusty "VHS" documenting history. Another level further on, a group of youngsters emerge from the silence with applause. The whole thing took 15 seconds, Adam scaling a brutal boulder concentrated into three steps on his first attempt. It's a pure manifestation of evolution and one of the most moving and inexplicable things I've ever seen. And Jerry's "pull like a bastard!" will ring in my ears as long as my ears are mine.
Check out:
Watch the Back to the Real Thing movie on my YouTube
Check out cool photos by Petr Chodura
You might be interested in