¿EH + AO!
"Euroholds resembled me in a way.
I am super passionate about my rock climbing, and they are incredibly passionate about doing the products that make sense."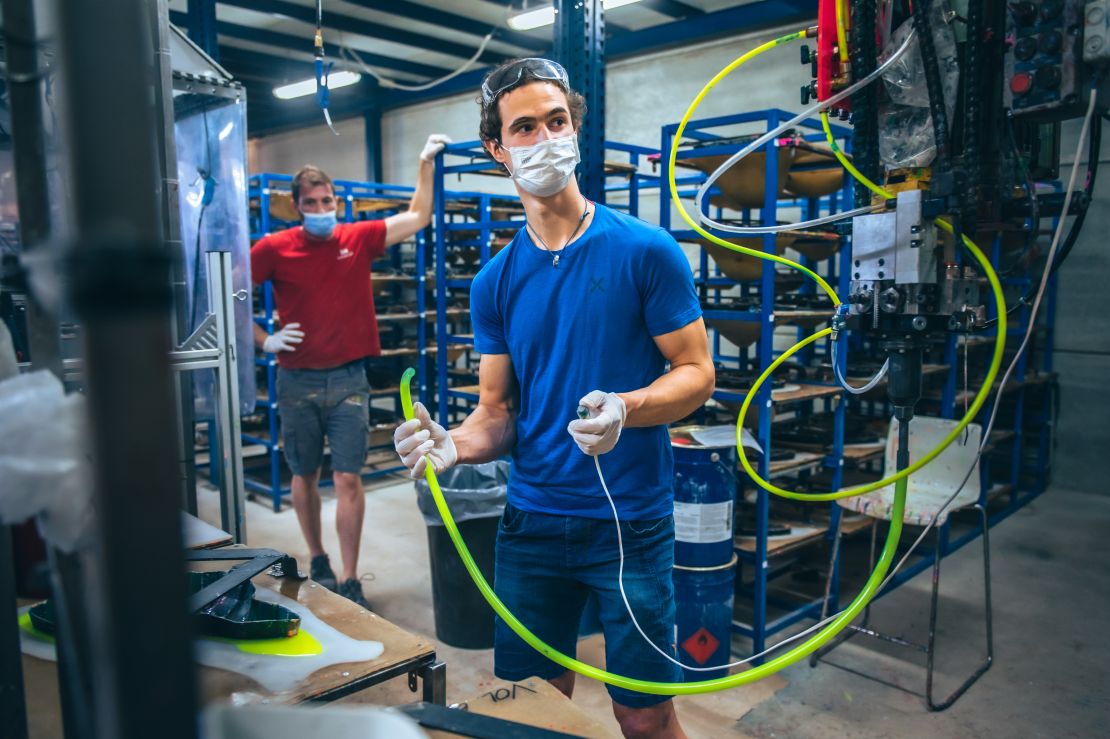 It all started in Margalef
I got stuck on the Perfecto Mundo (Spain) project. A trip which was supposed to last no more than two weeks turned into a month and a half long patience tester. I could make all the moves fairly quickly but could not connect them. The days turned into weeks. And as we were in the middle of the pandemic, I could not just get on the plane, fly home, train at my gym, and come back when the conditions improved.
I was just getting weaker and weaker, and the only chance to stay in shape was to get my hands on at least a campus board. So we decided to build one. And at the same time, sent a desperate email to a local manufacturer to ask if they could ship us some rungs as soon as possible.
An order turned into a mutual friendship
In the end, I didn't send the Perfecto Mundo, but the positive vibes and memories of talking to these guys stayed with me. A few months and emails later, I'm back in Spain, this time in Xativa, visiting the Euroholds factory. In the beginning, there was a little talk about a possible collaboration, business, money, and all that usual stuff, but it quickly turned into a very passionate brainstorming about climbing holds. We were like kids dreaming about all the impossible shapes we could create, new high-tech products, and top-notch designs. It was a blast!
"
After rock climbing for more than 25 years, I think I have already touched quite a lot of holds. And there are definitely some holds that I like from climbing on rock, but I am still missing on the market. Obviously, I can't wait to be part of the process of designing new shapes for Euroholds. And I am more than excited that is gonna happen here, in Spain.
Author of the photos: Petr Chodura
shaping the future
As I said, I have been climbing for almost 25 years, and the climbing holds have changed radically. The history of climbing holds is fascinating, but our greatest interest and focus lies in their future. That's why I see the mutual collab with Euroholds as an opportunity to combine many years of my experiences, design feeling and climbing creativity with their precise manufacturing and passion for new shapes.
"
I believe that climbing holds, and secondarily, the route setters really make a climbing gym. You cannot really make that many variations when it comes to the wall itself. Various steepness, aretes or dihedrals. But that's it. Actually, holds are what allow you to climb up the walls, and I am really stoked to be part of shaping the future with Euroholds!
build your training out of bricks
Are you dreaming of having a pinch power of the beast?! Then these climbing holds are gold for you! Enjoy the first holds that I designed with Euroholds. There is no secret power in that golden color. There is no secret recipe inside the texture of the holds that would get into your muscle fibers. But there is still the magic. Golden Bricks let you squeeze them as tight as possible, making every muscle on your body work. Climbing on them is super physical, especially when you put them into steep terrain. I am sure the sky is the limit for your pinch power!

"
It is only up to you and your imagination how you will use them. Be ready to fight. Be ready to struggle even on the boulders or routes that look easy. But be patient. Come back the next day, next week, next month. Be a stronger and better climber. May the pinch power be with you!
Author of the photos: Petr Chodura
BUILD YOUR OWN SPRAY WALL
Over 80% of my training life is training on the spray wall! Hundreds of holds, thousands of possibilities and the most natural way to get strong and brush up bouldering skills. A spray wall means freedom, so it is my absolute favorite kind of training tool. With the Euroholds climbing holds and Stokt app is the most powerful combination!
"
Many years ago, I had no other option, but it is still a very important part of my training! Unfortunately, seeing a good spraywall in commercial gyms is getting rarer. In the YouTube video with Euroholds below, you will get to see how to set your spraywall at home or in your favorite climbing centre.
Author of the photos: Petr Chodura
Boost your power to the limit with boosters
Welcome to the comfortable yet efficient way of crimping, a way of making your fingers stronger! Boosters by Euroholds are edges. But not regular edges. They are designed to be comfortable, yet by no means easy to hold. Do you want to try as hard as you can, making all the effort with your fingers against the hold, yet not suffer too much by bruising your skin with a sharp edge? Boosters are the solution!
"
Over the years, I learned that building your finger strength is not necessarily by grabbing the tiniest incut holds but more about the active position of your finger while holding bigger but more slopey crimps. This is the result of my experience.
Whether you are a crimp lover or you hate holding tiny holds, you will never escape them in climbing. It is vital to have strong fingers. And everybody can always BOOST their finger strength. BOOSTERS are the best way that I could find.
Author of the photos: Petr Chodura
Boosters easy - positive crimps
BOOSTERS EASY are comfortable crimps, ranging from slightly incut to very incut holds. The radius of each edge is designed to be the perfect one for it.
Author of the photos: Petr Chodura
Boosters HARD - SLOPEY crimps
BOOSTERS HARD are comfortable crimps, ranging from slightly slopey to seriously slopey small crimps. Every hold is designed in a way that you might let it go because you might not have the power, but not because it would be painful.
Author of the photos: Petr Chodura
ECLIPSES - Simple design - endless possibilities
Explore the new Eclipses holds designed by me and manufactured by Euroholds in hard or easy versions. They are great and comfortable handholds to be used mostly on the top of the volumes on steeper terrain. Just like the Booster family, they were designed to be challenging to hold, but very comfortable and skin-friendly. You should not be discouraged to try your boulder problem or route yet once more. Innovative use of the dual texture, dividing the hold on 70% and 30% of friction and the DUALTEX part, is allowing you to make very mean footholds, making your (and/or your gym customers) footwork more precise.
"
There are many different holds that are similar, yet always slightly more or less difficult. If you like the moves you set with the Eclipses, but you just want to make them slightly easier or harder, you always have another option.
Eclipse is a very simple hold or foothold, but it offers endless potential for use for many years to come. I am sure you will be good friends.
Have fun setting and climbing!
Author of the photos: Petr Chodura
eclipseS easy -
Essential chips
Designed to be used on the surface of the wooden volumes, or as difficult hand holds or intermediates. My main objective during the designing of the easy Eclipses holds process was that they would be comfortable and allow you to press hard and jump for them without fear of injuring yourself.
In the first type (the DUALTEX is 70% of the hold), turning them into authentic elements of torture for climbers while delighting the route setters as it enables them to adjust the difficulty according to their wishes. When the DUALTEX part of the hold is turned upwards, it is an extremely challenging foothold where you need to aim your foot very precisely. As a foothold, it is very challenging!
eclipseS HARD - Essential chips


Designed to be used on the surface of the volumes, or as very difficult footholds. The use of Hard Eclipses as handholds with using volumes is only possible in slabby or vertical terrain. My main objective during the designing process was that they would be comfortable, they would allow you to squeeze hard, and you could go for them without fear of injury.
In the first type, the DUALTEX version occupies 70% of the hold. When the DUALTEX part of the hold is turned upwards, it is an extremely challenging foothold, just on the border between the DUALTEX and friction part. In the second type of DUALTEX, the shiny part occupies only 30% of the holds, making them more versatile, although it also prevents the climber's thumb from pinching. As a foothold, it is very challenging as you need to aim your foot very close to the wall. If you fail in your precision, it can easily punish you with slipping.
Author of the photos: Petr Chodura
It's all on the tape
It ain't just the holds we are so excited about but also the possibilities in communicating what we work on. Something which we believe could bring something new into this industry. As with the climbing projects, our intentions are to document every single step of the process. It probably won't ever win us any Oscars, but nevertheless, it's without any doubt a huge part of what makes us tick and really happy. To create!
Expect something, which will make you sweat!
I spent countless hours and days in the gym perfecting my skills and techniques on how to train better, more efficiently, and in such a way to minimize any injuries. I enjoy every bit of it, no matter how excruciatingly tiring the training might sometimes be. It's all part of the never-ending learning process. A wast knowledge I accumulated over the years of my climbing career. Something I wish to share one day with anybody who cares to listen. Be it a hold manufacturer seeking the perfect hold shape, a pro climber working on her or his project, or anybody excited about climbing, no matter the grade.